Professional excursion of media production students to the 59th Venice Biennale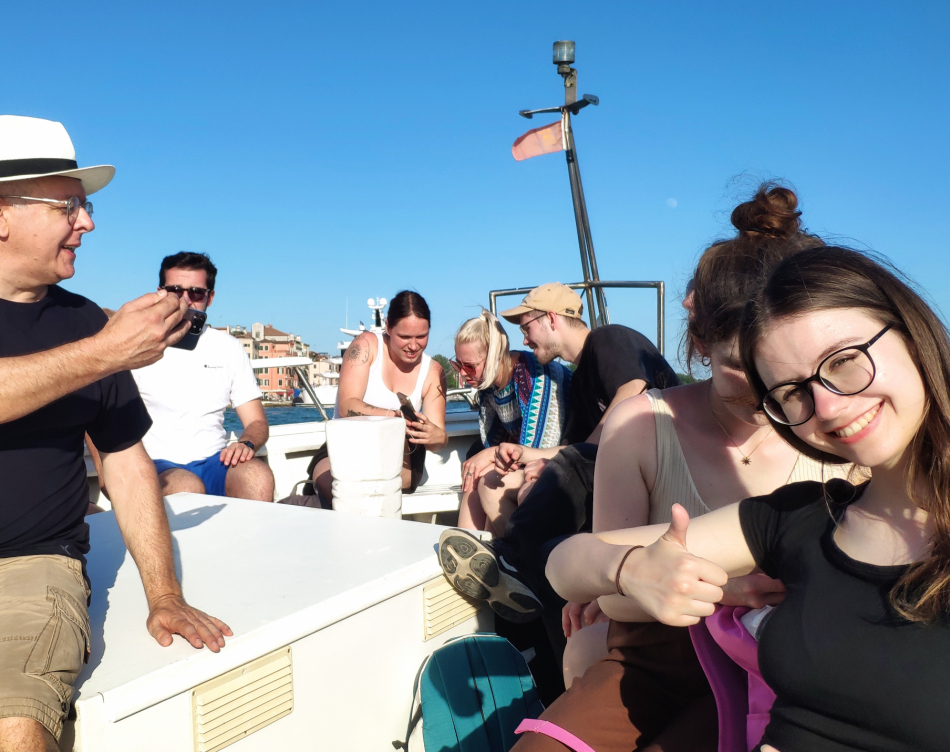 In the early hours of Saturday 11 June 2022, Media Production students set off to see one of the world's greatest showcases of contemporary art, the Venice Biennale, entitled "Milk of Dreams".  This year's 59th Biennial is also considered the biggest ever with over 200 participating artists, and the Slovenian pavilion is represented by painter Marko Jakše with his exhibition Without a Master (Brez gospodarja).
---
The 59th International Art Exhibition of the Venice Biennale, entitled Milk of Dreams, opened its doors to the public in 2022 on Saturday 23 April, and will be on view until Sunday 27 November at the Giardini and the Arsenale; the exhibition is curated by Cecilia Alemani and organized by the Venice Biennale under the direction of Roberto Cicutto.
This year's Biennale focuses on three thematic areas: the representation of bodies and their metamorphosis, the relationship between individuals and technologies, and the connection between bodies and the Earth."
"The title of Milk of Dreams comes from a book by Leonora Carrington (1917-2011), in which the surrealist artist describes a magical world in which life is constantly changing through the prism of the imagination."
This is how Cecilia Alemani, the Biennale's Artistic Director, described the title of this year's Biennale. She believes that during the Biennale, Venice becomes a place where everyone can change, transform or become something or someone else. The "Milk of Dreams" was conceived and organized in a period of extreme instability and uncertainty, as its development coincided with the outbreak and spread of the Covid-19 pandemic. The Venice Biennale (La Biennale di Venezia) was forced to postpone this edition by one year, which has only happened once since 1895 – during the two world wars.
The exhibitions take place in the Central Pavilion (Giardini) and in the Arsenale, with 213 participating artists from 58 countries, 180 of whom will be taking part for the first time in an international exhibition.The 1 433 works and objects on display and the 80 new projects have been specially conceived for the Biennale.
"Many of the works are new productions created especially for this edition. This is an important sign and proof of the great attention we are paying to the new generation of artists.
The artworks of the participating artists can be viewed at the following link