Design and introduction of chairless chair exoskeleton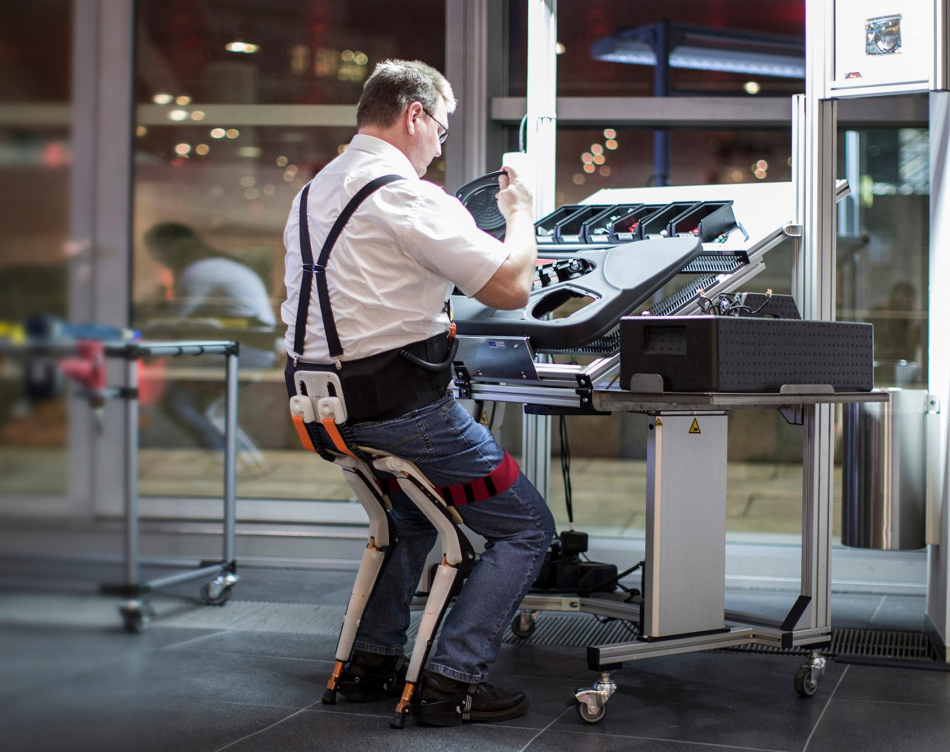 The research of this diploma thesis is about the design and introduction of ergonomic chair-less chair. This topic really helped me to get more connected with the CAM-CAD software, ergonomics, human health anatomy and work safety and environmental protection.
I took this topic because the company has both an assembly section and a production section. In both sections most of the work is done in a standing position. According to medical science, prolonged standing results in inflammation in veins and causes the joints in the spine, hips, knees, and feet to become temporarily locked.
This will improve muscle soreness, lower back pain issues and other discomfort in the employees, thus affecting the productivity and well-being of that person. So, the potential problems are less production, more time to attain targets, and more sick leaves.
Thus, the decreased productivity of the workers leads to reduction in production and extra costs and puts the reputation of the company in turmoil.
Introducing this ergonomic chair will help them to work with ease, minimize the number of sick days and decrease capacity constraints. The chair is mounted to workers legs and the person can move with it and sit on it freely and work in ease.
It also helps to increase the productivity of the worker and provides a tireless working atmosphere. This will be a replacement for a normal chair and thus we ensure better space management. Other-than that we can use this where the normal chairs cannot fit.
This is a theoretical diploma work with a descriptive working method. A systematic approach of searching the literature was used. A detailed explanation about ergonomics and its branches is explained, and the advantages and future possibilities of exoskeletons are also explained.
A narrative review was undertaken in order to discover the increase in productivity and work ability of the worker in connection with ergonomics. In this section, the methodology used for the literature search is described.
The obtained research results are expected to increase the productivity and work ability of the worker. It is expected that there will be a 20- 25% increment in the work ability of the employee and 50% less in both physical and mental fatigue of a worker.
This research also provides insights into the future scope for mechatronic exoskeleton and brain-controlled prosthetics.
Diploma paper Vijin Venu Gopal