Accounting & Finance Student of the Year 2022 is Lidija Goričan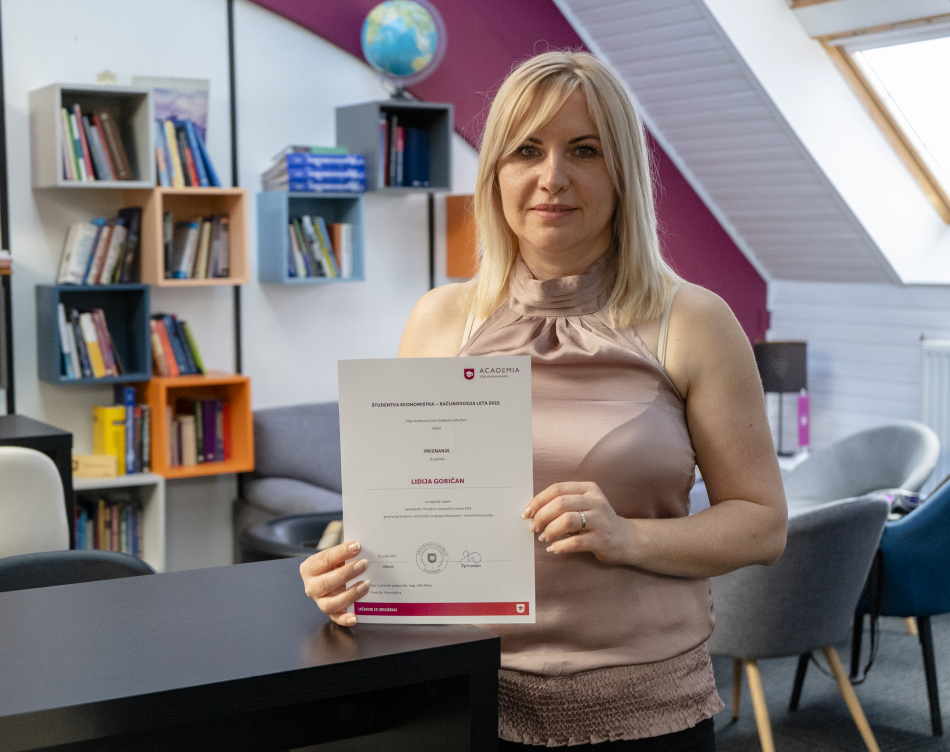 The 2022 Student of the Year Award for the Economist – Accounting & Finance module was awarded to Lidija Goričan, who was the most successful and fastest student to complete the requirements of the 2020-2022 generation of the Economist – Accounting & Finance module of the Higher Professional Education programme.
---
1. What does the title Commercial Student 2022 mean to you?
The title surprised me but it also means a lot to me because these results are a reflection of my efforts.
2. Why did you choose to study at Academia Maribor?
What attracted me most to the Academia VŠS was the fact that here it is possible to gain a lot of practical knowledge, as the education is not built only on theoretical knowledge and the lecturers lecture on the basis of their own practical experience. 
3. What do you enjoy most about your studies?
The most rewarding thing for me was learning from concrete examples that I still encounter in the workplace today. Sometimes work and studying meant that I didn't have the time or energy, but my classmates and I got on really well and helped each other out. The modular nature of the course also suited me very well.
4. How does studying at the Academia help you in your career and personal development? 
I have always wanted to further my knowledge and achieve a higher level of education. Through this study I was able to change my job to an accounting position.
5. Where do you see yourself after graduation? Will you stay loyal to the company you work for?
For the time being I will continue in accounting, but in the future I will definitely want to achieve a higher degree or gain additional knowledge in this field.
6. What advice would you give to prospective students to help them succeed in their studies?
Perseverance and support, but also resourcefulness. It is also important to organise time for studying, for society, for yourself.