Audio Production Student of the Year 2022 is Matej Omahna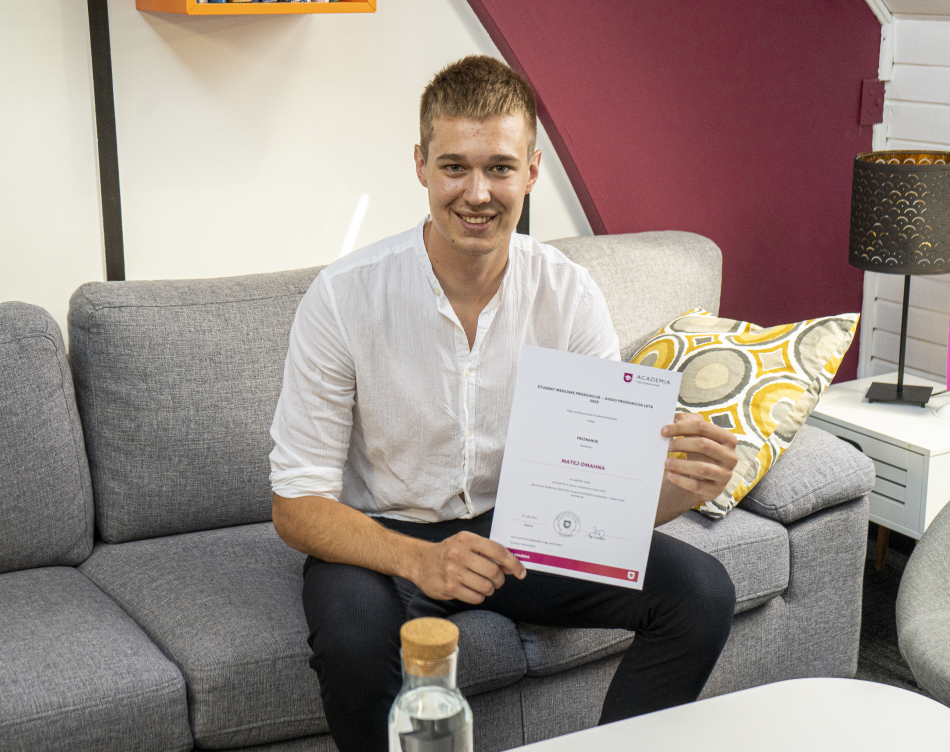 Matej Omahna was awarded the 2022 Student of the Year award for the Media Production – Audio Production programme for the academic year, having completed the requirements of the Media Production 2020-2022 Generation Higher Professional Education programme in the most successful and fastest manner. He is also the vocalist and guitarist of the folk-music band Mladi gamsi.
---
1. What does the title Media Production Student – Audio Production module 2022 mean to you?
For me, it's a recognition that gives me a lot of confidence, it's a confirmation of all my efforts and it's a great indicator that I need to continue with this way of working.
2. Why did you choose to study at Academia Maribor?
I grew up in a musical family and the love of music has been with me from the very beginning. Even as a child I wanted to be a music performer or a technician or a studio producer. I primarily studied pedagogy and androgyny, but I quickly realised that this direction was not for me. Through social networks I found out about VSŠ Academio and the possibility of studying audio production immediately convinced me.
3. What do you enjoy most about your studies?
A huge amount of practical knowledge: my greatest pleasure was taking the course Project Work in Audio Production, where we learned first-hand about the whole studio equipment and music production from conception to realisation.
4. How does studying at the Academia help you in your career and personal development? 
On a personal level, I have set myself a lot of new goals, creating new content in the media or music fields, which is linked to the extra confidence, motivation and creativity I have received during my studies. 
5. Where do you see yourself after graduation? 
After graduation I will continue as a music performer, but I would also like to try my hand as a sound technician or as a member of a radio team or media company.
6. What advice would you give to prospective students to help them succeed in their studies?
I would stress that to study successfully you need to work hard and be consistent, but the most important thing is of course to enjoy the course you are studying.