IT – Software computing student of 2022 is Minej Pak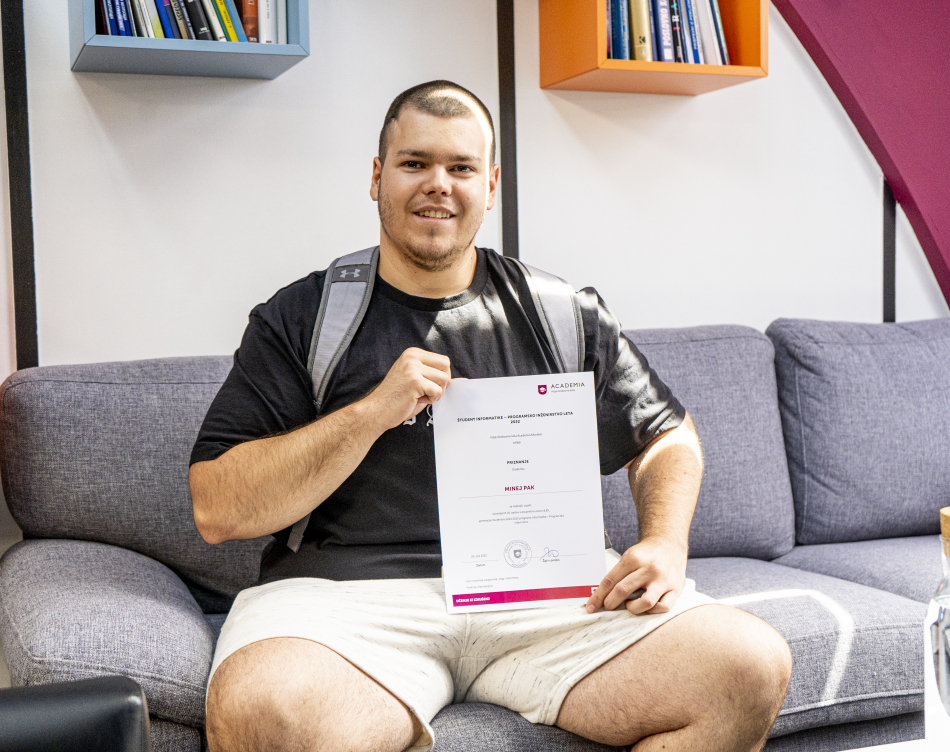 The Student of the Year 2022 of the Software computing programme was awarded to Minej Pak, who was the most successful and fastest in completing the requirements of the Software computing programme of the 2020-2022 generation.
---
1. What does the title Software computing Student of 2022 mean to you?
For me, it is a proof of my efforts and also a result of the correct and quality approach of the lecturers, who conducted the lectures on the basis of practical experience and knowledge rather than on a theoretical basis.
2. Why did you choose to study at Academia Maribor?
I started programming at the age of 10 and quickly after that I started working with the Java programming language. I drifted away from programming during high school, but later I found my love for it again and the part-time study of Computer Science at VSŠ Academia was a great choice because of the possibility of permanent student work and study.
3. What do you enjoy most about your studies?
First of all, I enjoyed the lectures the most, where the lecturers lectured from their own practical experience and examples, and I also enjoyed doing the project exercises. I would put the possibility to study at a distance, which saved me a lot of precious time, and the option to watch the lectures retrospectively first, as they were crucial for the study itself and the final result.
4. How does studying at Academia help you in your career and personal development?
My work habits have definitely improved. Sometimes studying itself has forced me to complete certain things and not procrastinate, for which I am very grateful!
5. Where do you see yourself after graduation? Will you stay loyal to the company you work for?
I see myself working for a well-known company. I am currently working at Turtle, which I see as a great stepping stone in my career path. I will definitely stay in programming.
6. What advice would you give to prospective students for a successful study?
The most important thing is perseverance. When you feel like you have no energy or motivation left, still try to grit your teeth, because it will pay off in the end.