Jan Rozman is the Photography Student of the Year 2022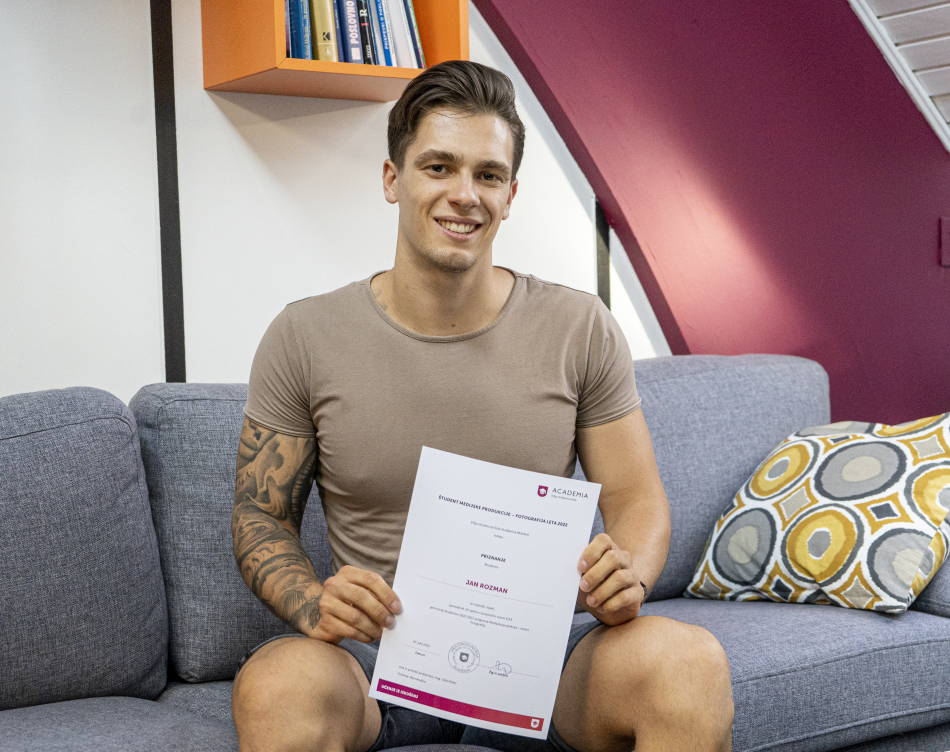 The award for Student of the Year 2022 of the Media Production – Photography programme in the academic year went to Jan Rozman, who was the most successful and fastest in completing the requirements of the Media Production of the Generation 2020-2022 higher professional education programme.
---
1. What does the title Media Production Student – Photography module 2022 mean to you?
Although the news was unexpected, this title means a lot to me.
2. Why did you choose to study at Academia Maribor?
In high school I started to work a lot with photography. First I was part of photography projects, later I did personal projects and that's when I realised that I really liked photography. I decided to study at Academia based on a course that was not only focused on photography, but also touched on other productions, such as video production, which I am also very interested in.
3. What do you enjoy most about your studies?
What I liked most about my studies was the student-lecturer relationship, the lecturers were always willing to help and to focus on the individual student, we had studio equipment at our disposal, and I also liked the modular format of the lectures.
4. How does studying at Academia help you in your career and personal development? 
The biggest change I notice is in my self-confidence – the Erasmus+ internship in Liechtenstein, where I photographed various events, conferences, round tables in a media house, played a big role in this. During my studies, I also set clear goals for what I wanted to achieve in the future.
5. Where do you see yourself after graduation? 
On the same day that I received the news about the best student, I also received a contract of employment from Liechtenstein. It's not the same company I did my internship with, but they are very happy with my work so far and I am very excited about this opportunity and the new experience.
6. What advice would you give to prospective students to help them succeed in their studies?
My biggest advice would be to take advantage of an Erasmus+ exchange to a foreign country. It makes you lose the fear of the unknown, gives you extra confidence, helps you to make new friends, form new hobbies and is a great link to build your career.