Nataša Ujlaki is the Graphic Design Engineer Student of the Year 2021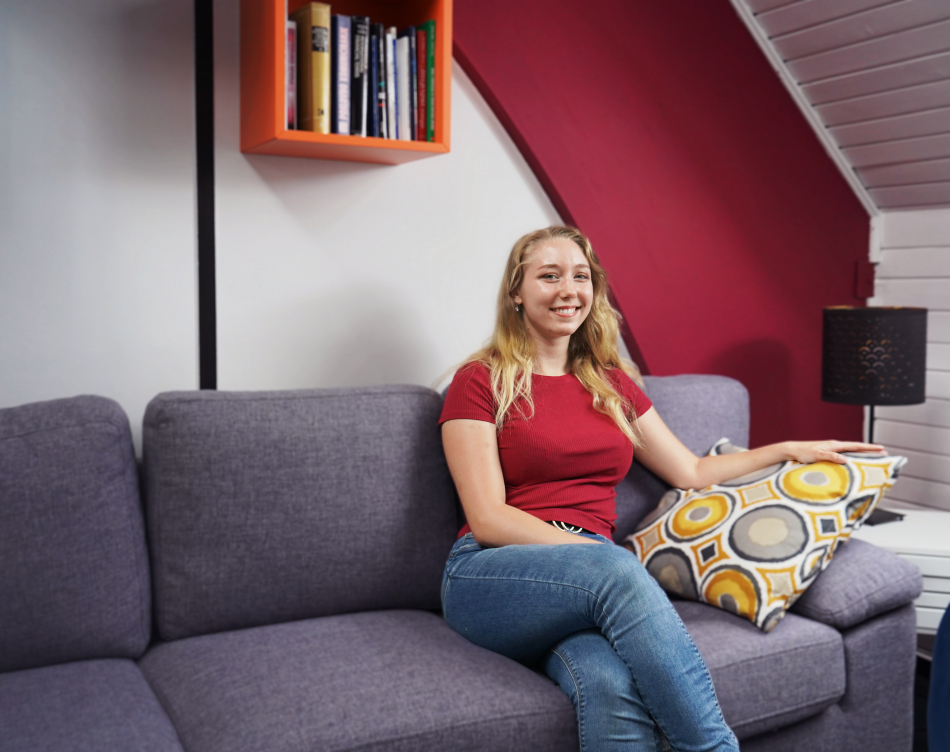 The award Graphic Design Engineer Student of the Year 2021 of the Media Production – Graphic Design module was awarded to Nataša Ujlaki, who was the most successful and fastest in completing the requirements  of the 2019-2021 generation of the Media Production Higher Education professional programme.
1. What does the title Graphic Design Engineer Student of the year 2021 mean to you?
"This title is a confirmation for me that I can do so much more in my profession now, that I am better at these things now than I was in high school, that I have learned a lot of new things, that I have met new people and that I have stepped out of my comfort zone."
2. Why did you choose to study at Academia Maribor?
"I chose to study Media Production out of my own desire to design. I also thought about programming, but later I realised that they are very different, and I prefer designing much more than programming. So I looked for different faculties that included this course.
When I found out about Academia and saw its course list, I noticed that it consisted of many interesting and useful subjects. That is when I finally decided to study at your school."
3. What do you enjoy most about your studies?
"I enjoyed the project work in web production the most, where we built websites using the Figma platform. Animation and creating animations and photography also really appealed to me. Although the latter was less on the timetable due to my focus on graphic design, I learnt from this subject the most." 
4. How does studying at the Academia help you in your career and personal development? 
"Personally, I am much more communicative and I am gaining an identity, because before I was quiet and it was harder to have a conversation."
5. Where do you see yourself after graduation? 
"I see myself in the graphic design or web design profession. After my studies, I might continue working with my instructor Dejan Šmid.
As part of my practical training, my mentor and I have also agreed to work together on a project at the company as a social media administrator for Instagram and Facebook Parasport Slovenia (Association for Disabled Sports of Slovenia- Slovenian Paralympic Committee).
Here I got in touch with fast posting on stated sites, analytics and performance measurement. I also go to Ljubljana a couple of times a week for coordination meetings."
6. What advice would you give to prospective students to help them succeed in their studies?
"I always applied on all exams at first term, so I subconsciously forced myself to prepare or learn from start on. Of course, I didn't always succeed, but it helped a lot. I think every student finds their own way of learning, but I strongly recommend that they study regurarly" 
7. What else do you do beside your studies?
"I am currently a Samsung phone promoter while studying, and I have been a promoter for two years in Murska Sobota, Celje and Maribor. I travel a lot, I also work with SPID.si (an e-sports company) as part of the organising team for LAN-parties and other events of this kind."
"I have gained a lot of experience at the Academia myself, so I would like to tell everyone that
I highly recommend Academia to everyone who wants to learn and acquire new skills through practical learning."