Nejc Andric is the Graphic Design Engineer Student of the Year 2022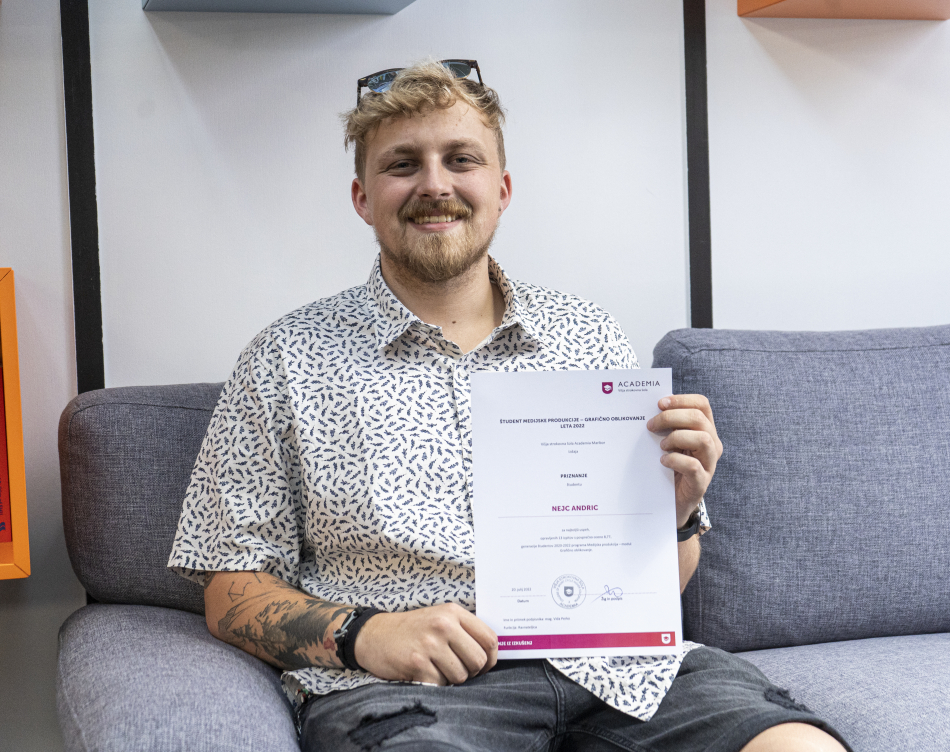 The 2022 Student of the Year Award for the Media production – Graphic design module was awarded to Nejc Andric, who was the most successful and fastest student to complete the requirements of the 2020-2022 generation of the Media production – Graphic design module of the Higher Professional Education programme.
---
1. What does the title Media Production Student – Graphic Design Module 2022 mean to you?
I didn't expect this title, but I am very happy about it. I have a lot of classmates in my class who are extremely talented and will be very successful future graphic designers, so the news came as a big surprise to me.
2. Why did you choose to study at Academia Maribor?
I have been interested in media production, more specifically graphic design, since I was a little girl, but due to my indecisiveness I have only now started to pursue this passion. After high school I decided to study language studies at the Faculty of Arts in Maribor, but I noticed that theoretically oriented studies did not suit me as much as the studies with an emphasis on practical knowledge that Academia offers. I also got in touch with former classmates who attend Academia and after talking about studying graphic design, my decision was final.
3. What do you enjoy most about your studies?
What I enjoy most about studying is the amount of practice and working on projects. It is true that there is also theoretical lecturing, but for me it is the lecturer's application of his/her own knowledge and experience to the students that is the key.
4. How does studying at Academia help you in your career and personal development? 
I have definitely gained in confidence and communication. We had a lot of graphic design projects as part of my studies and at the beginning I had doubts about my ability to cope with the projects, so I approached them very carefully. Later on, these doubts disappeared – now I am more talkative and I dare to be much more creative in my projects.
5. Where do you see yourself after graduation? 
I have a strong desire to work in video production or graphic design, and in the future I'm thinking of starting my own company in this field.
6. What advice would you give to prospective students for a successful study?
To study successfully, I would advise all prospective students not to skip the first year of exams, attend lectures and listen carefully to the lecturers as they are lecturing from their own experience.