Sara Kink is the Commerce Student of the Year 2022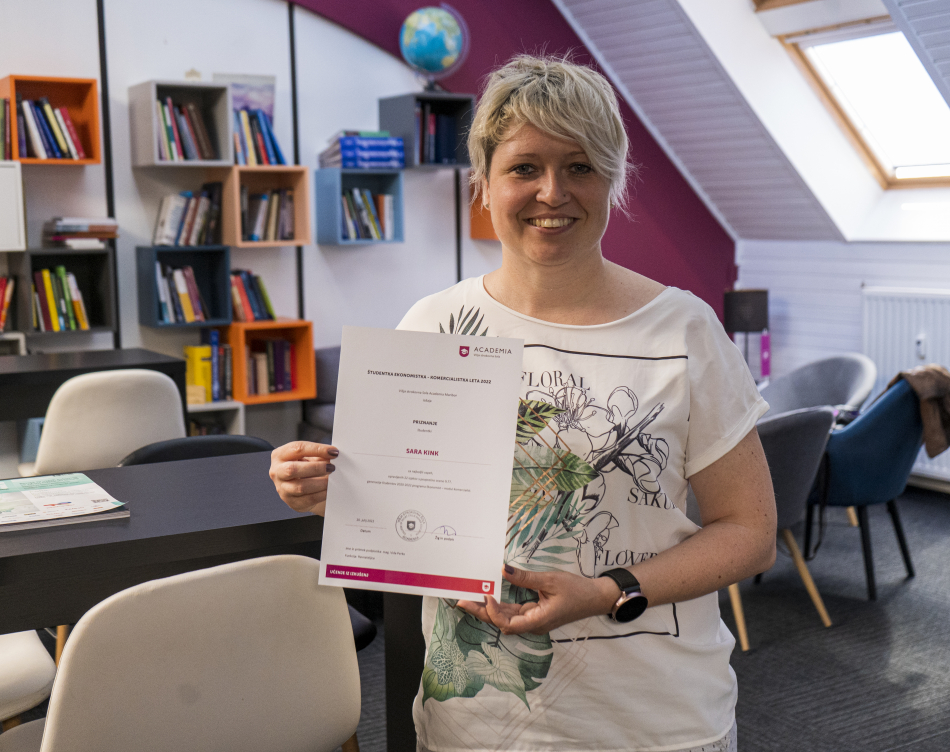 The 2022 Student of the Year Award for the Economist – Commercialist module was awarded to Sara Kink, who was the most successful and fastest to complete the requirements of the Economist – Commerce module of the 2020-2022 Generation.
---
1. What does the title Commercial Student 2022 mean to you?
I was very surprised by this news and at the same time I consider it a great honour and an important building block in my career path.
2. Why did you choose to study at Academia Maribor?
I found out about the Academia from a colleague who also studied at the Academia. He advised me to study based on his own positive experience and knowledge, and I was convinced of the quality of the studies after the initial meeting.
3. What do you enjoy most about your studies?
The thing I liked the most was the lecture. The lecturers gave lectures based on practical knowledge, which made the lectures themselves much more interesting and informative. I also enjoyed working with my classmates, as we were a great help and motivation to each other, especially during the COVID epidemic, when the course of study was bridged remotely.
4. How does studying at the Academia help you in your career and personal development?
During my studies, I unexpectedly changed jobs and I can thank my studies at the Academia for making the transition much easier, equipping me with the experience and practical knowledge to start my new job with much more ease and quality. Personally, I have definitely gained in confidence.
5. Where do you see yourself after graduation? Will you stay loyal to the company you work for?
I have achieved my goal of changing positions, and I am very proud of that. Receiving the title of best student in the module I am studying is an extra motivation for all the hard days I have combined between studying and working.
6. What advice would you give to prospective students to help them succeed in their studies?
Students need to have the desire to study, but even that is sometimes not enough. That's why perseverance is also very important. Sometimes you will face tough days, but with the support of your classmates, friends and family, it will be much easier.