Video Production Student of the Year 2022 is Mark Mohra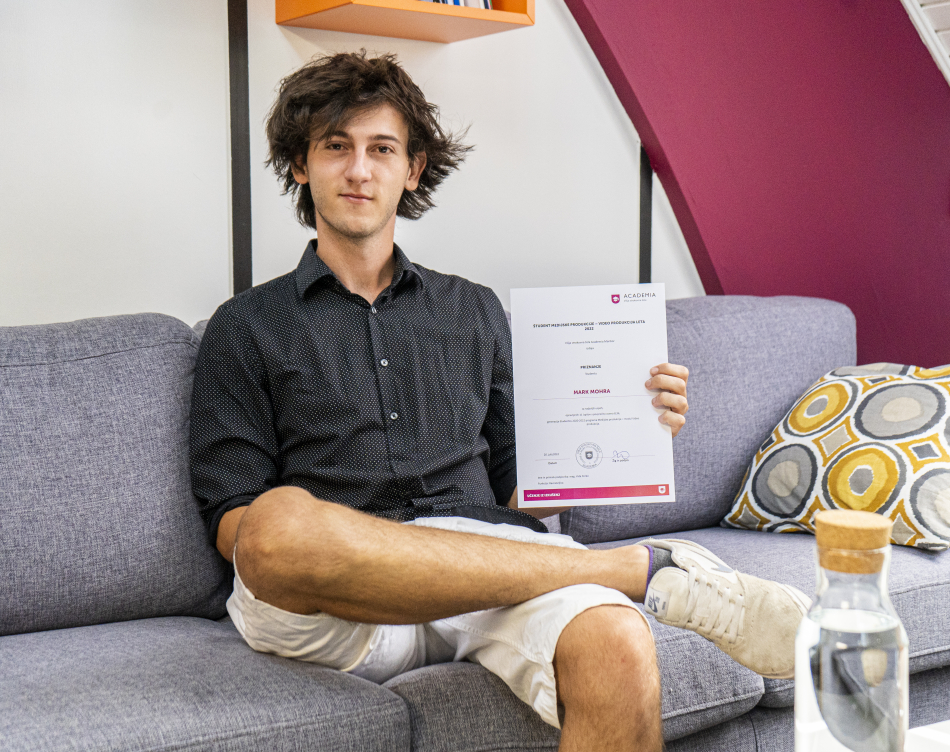 The 2022 Student of the Year Award for the Media production – Video production module was awarded to Mark Mohra, who was the most successful and fastest student to complete the requirements of the 2020-2022 generation of the Media production – Video production module of the Higher Professional Education programme.
---
1. What does the title Media Production Student – Video Production Module 2022 mean to you?
I was a bit surprised by the news, but I am very happy about the title, as it is a reward for the effort I have put into this study.
2. Why did you choose to study at Academia Maribor?
Before my studies I was already working a lot with photography and video production, but with this study I wanted to further improve my knowledge and I am looking for new experiences. I was convinced to choose this study programme mainly because of its location, as it is located in the centre of Maribor, and because it is the only study programme in Maribor that offers a greater amount of practice and practical experience.
3. What do you enjoy most about your studies?
What I enjoyed the most was the amount of practical experience that students received and the challenges that taught us teamwork, communication and, last but not least, ingenuity.
4. How does studying at the Academia help you in your career and personal development? 
I started out making compilations of different recordings as a hobby, but because I wanted to upgrade my skills, I chose this course. I learnt a lot of additional techniques and methods to master in order to successfully shoot or edit videos. As part of my personal development, I have noticed that I have lost that initial trepidation and doubt in my abilities, I have upgraded my professional communication, and I value my products much more today than I used to.
5. Where do you see yourself after graduation? 
My ambition after graduation is to open a photography and video services company, commercial imaging and filming, and my main goal is to become a director.
6. What advice would you give to prospective students for a successful study?
Self-initiative is the most important thing in the video production module. There is a lot of independent practical work in this course and prior knowledge is very welcome and important to make projects go faster and easier.